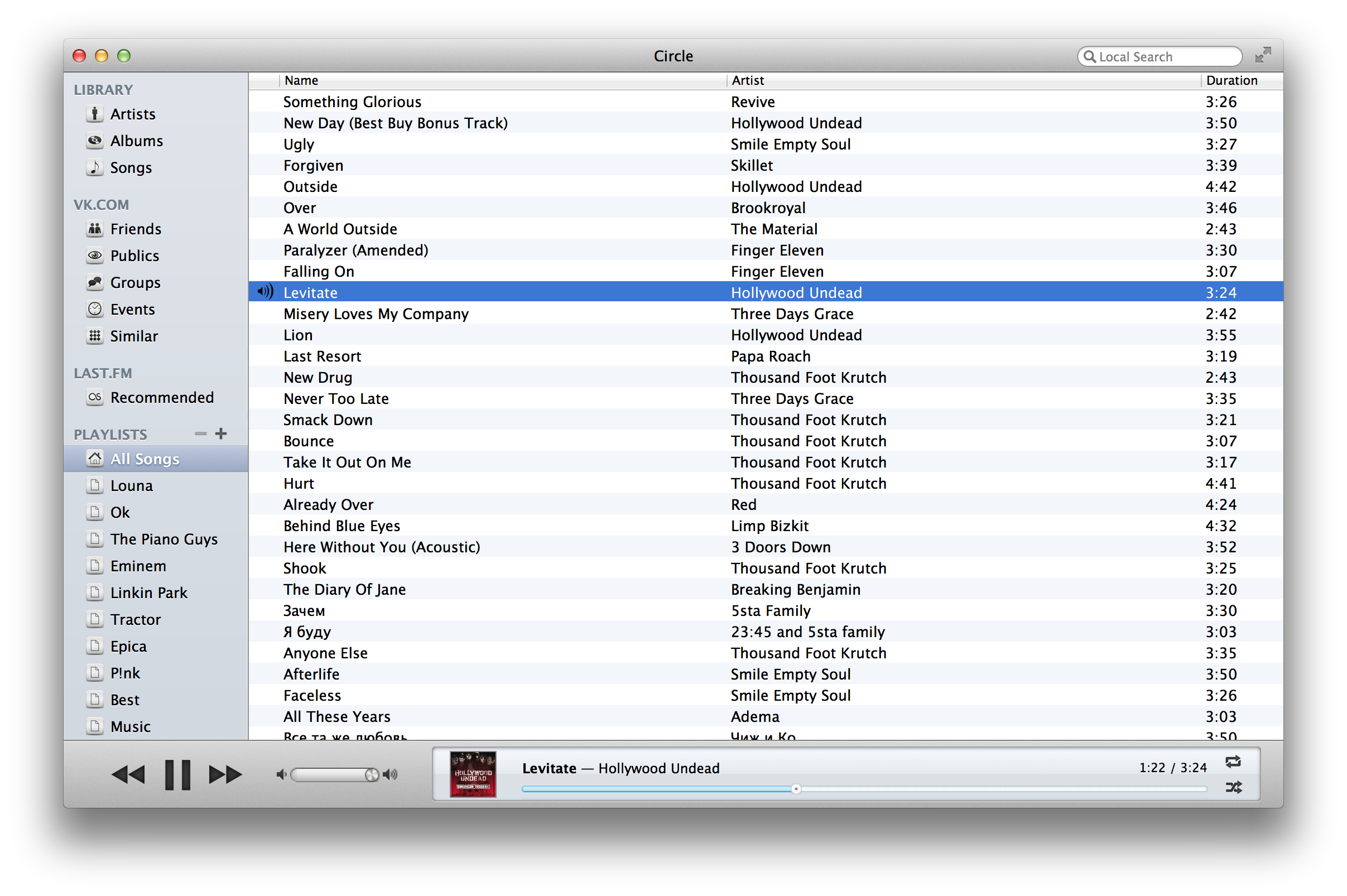 Русская версия страницы доступна здесь.
Circle is the audio player for OS X that allows you to stream music, similar to Spotify, but completely free of charge. Free VK account is the only thing you need to enjoy free music with Circle on your Mac!
WARNING/ACHTUNG: This project is frozen at the moment (August 2016). I am putting some effort into re-writing the app from scratch using swift, but currently things go rather slow due to the lack of spare time for myself. I am, in fact, not really sure that the new version of this project would ever be released, so no promises made. Version 1.2 is unstable on the OS X starting version 10.9, and honestly I have no time nor wish to fix it 🙁
What's New in this Version (1.2)
* Added Similar tab into sidebar, which displays recommended songs based on your audio tracks
* Possibility to add tracks with drag-n-drop
* Possibility to change size of columns
* Possibility to change size of sidebar
* Now application restores shuffle and repeat statuses after re-launch
* Mini Player now can be always on top
* Almost full retina support
* Some stability improvements
* Also some minor bugfixes
General features: 
* Search by artists
* Search by albums
* Music caching
* Lyrics
* Playlists support
* Last.fm scrobbling
* Last.fm recommendations
* Mini player
* Displays music of your friends/groups/publics and events
* Displays albums cover arts
* Publishes listening track to the site
* Possibility to edit track and reorder with drag-and-drop
Download
Warning: Because of many requests we changed the app distribution scheme and added the new way to get it – downloading directly from this site.
General advantages of using the version downloaded directly:
* You can get new version of app much earlier than the App Store users!
* There is no need to use agent for controlling playback with multimedia keys anymore
* There is no need to use Apple ID to downloading and installing the app
* In the other cases both app versions are similar to each other
Download directly (version 1.2)
Download from App Store (version 1.2)
Enabling multimedia keyboard support (App Store version only)
Because of Apple's policy regarding app distribution (all the application hosted by App Store must be sandboxed) and totally absence of Public API that allows to recognize multimedia keys pressing, it is impossible to use multimedia keyboard support in Circle directly. But you can use special agent for Circle – the additional micro application that holds in your system tray silently and transmits multimedia keys pressing to circle. You can download that agent directly from here. To install app just move it to your application folder.